The Trio cardboard chair is the result of a combination of three natural and eco-sustainable materials: cardboard, bamboo and fabric.
This union creates a comfortable, light and resistant chair.
Trio
is a transformable chair, with an interlocking system, its back can be folded up and if necessary become a
table.
It is a modular furnishing, through the
bamboo canes
that emerge from the cardboard you can configure a linear sofa.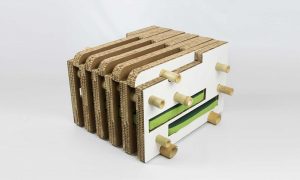 Trio is easily transportable and mountable as the presence of the honeycomb cardboard lightens the structure while ensuring resistance. The fabric guarantees endless possibilities of customization thanks to the wide choice of color.
Design: arch. Giada Dione, Filippo Condorelli (Laboo)
Bamboo elements: Laboo
Photo: Antonio Grisalvo